Last week, we talked about how to keep your garden growing without going overboard on your water bill. But once you've got that beautiful flora out in full force, you want to make sure it's clearly visible, even at night — which is one of the reasons you should consider installing landscape lighting in your yard.
Light Bright
Landscape lighting can serve many purposes. First, it can brilliantly illuminate your entire garden, allowing you and anyone who passes your home to admire your hard work. You can also use it more creatively in specific areas to highlight certain features or direct the eye from place to place, as if your yard is a fine art gallery. Use splashes of colored light to make the chosen areas really pop, or imitate moonlight to add a stronger sense of dimension and bring out different textures. In addition to illuminating plants, use landscape lighting to focus on water features or architectural details.
Extended Hours
As summer approaches, we enjoy spending more time outside, letting the day slip lazily into night. Whether you're grilling something delicious for dinner, sipping a cool glass of wine on the back porch, or watching the kids play in the yard while you chat with the neighbors, you want to get more use out of the beautiful outdoor spaces you've worked so hard to maintain. Installing landscape lighting is the number one way to do just that. Create a beautiful and welcoming ambiance that encourages you and your guests to relax and chat well into the night.
Value Added
Landscape lighting will help improve your home's curb appeal, as well as its resale value. Homes with landscape lighting usually command a higher sales price compared to those without. A well-lit home and yard tell potential buyers that the property is well-cared for and offers them a fuller picture of what their life in that home will look like. Landscape lighting makes a house feel warm and inviting and increases its overall charm.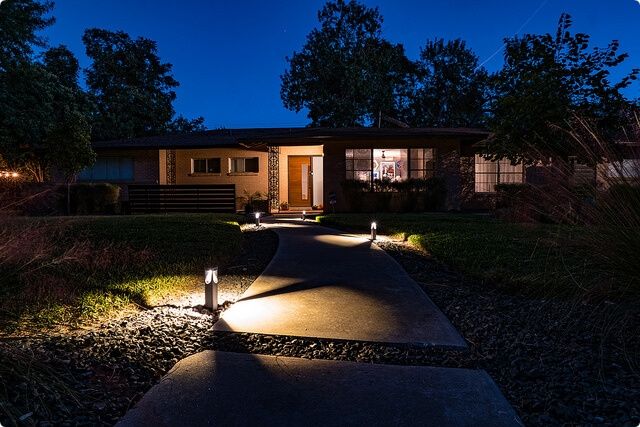 Security Detail
Illuminating your outdoor spaces also discourages break-ins. While a well-lit yard makes your home more attractive to prospective buyers, it also makes it less attractive to potential thieves. Outdoor lighting also makes your home safer by allowing you and your visitors to see any obstacles, drop-offs, or changes in terrain. You may know your yard like the back of your hand, but your guests don't! Particularly if you have elderly or physically impaired visitors, consider adding lighting to pathways and entrances to make your space more easily accessible.
Light It Up Right
To really highlight your garden's best features and create a beautiful and functional design, nothing beats a professional consultation. If you decide to go the DIY route, however, look for low-voltage landscape lighting, which uses a transformer to take 120 volts of electricity down to just 12 volts. This allows it to safely operate in wet/moist conditions like your garden and brings down the usage costs quite a bit. Low-voltage lighting is available in a wide variety of styles and colors, so you can personalize your design.
Don't leave your garden in the dark this summer! Invest in landscape lighting and spend more time enjoying the beautiful spaces you've cultivated.